Riverina Murray Regional Alliance Introduction
With the reduction of Government services, in particular the Aboriginal Affairs office closure in Wagga Wagga, concerned community members saw the need for a regional governance structure to coordinate the provision of services across the Riverina Murray region. While RMRA has been operating since 2015, it was formally launched in 2016 as a regional mechanism through which Riverina Murray communities can collectively identify priority issues, and engage with government and key service delivery stakeholders to develop targeted service responses and solutions, and directly influence how those services are delivered.
The establishment of RMRA also provides an opportunity for Riverina Murray communities to engage with, and benefit from, the NSW Government's OCHRE Plan (Opportunity, Choice, Healing, Responsibility, Empowerment) which provides a policy framework for advancing the capacity of NSW Aboriginal communities to participate in local decision making focused on improving education, employment, service delivery and accountability outcomes.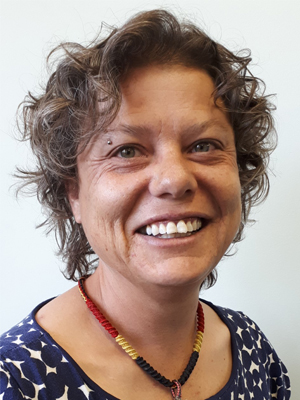 Ruth Davys
RMRA Chairperson
(2015 - Current)
Ruth Davys is a Wiradjuri Aboriginal leader, active community member and successful business woman living in Albury NSW. Ruth is the current Chairperson of the Riverina Murray Regional Alliance (RMRA) since July 2015.
Ruth is committed to providing quality and appropriate services and assistance to the Aboriginal community in the Riverina Murray region of NSW and has held a diversity of positions over many years including:
Albury Wodonga Community Working Party Chairperson
NDIS Readiness Senior Aboriginal Project Officer
FACS Housing Senior Client Service Officer Aboriginal Specialist
FACS ADHC Senior NDIS Readiness Project Officer Far West/Murrumbidgee, Western NSW
Albury Wodonga Aboriginal Health Service Board member
Owner and Educator Family Day Care Network Australia
Albury Family Day Care Parent Representative
Ruth holds a Graduate Certificate in Wiradjuri Language, Heritage and Culture, Certificate I, II and III in Aboriginal Languages and a Certificate III in Children's Services. Ruth was a finalist in the Albury Wodonga NAIDOC Community person of the year in 2015, and the winner of the Albury Wodonga NAIDOC Scholar of the Year in 2016.

In July 2016 Ruth co-founded Giilangyaldhaanygalang, a 100% Aboriginal owned partnership Wiradjuri language education business. They are passionate about teaching Wiradjuri language within their community and also produce exciting and free digital resources. Funds raised from Giilangyaldhaanygalang including from the sale of locally sourced natural spring water bottled as Galing are used to support this training.
Giilangyaldhaanygalang, which means "Storytellers" in the Wiradjuri language, brings together an informal network of individuals who actively form relationships that support each other to express their cultural self through art, song, dance and writing. Giilangyaldhaanygalang exists to empower people to share their stories in their own creative way.
In 2017 Ruth was heavily involved in the Aboriginal Languages legislation committee that influenced the Minister and the Department of Aboriginal Affairs writing the legislation. Ruth's creative side sees her leaving a permanent mark on the Albury Yindyamarra Sculpture walk with her Bogong Moth Migration Sculpture and her country designed carpets lay at the MAMA building in Albury.
Whilst conducting this business Ruth maintains her role as wife and mother to three young children, Jake 9, Thomas 7 and Tacoola-Ruth 5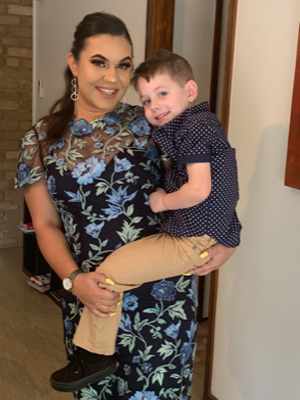 Melissa Bilney
RMRA Project Officer
(2019 - Current)
Melissa Bilney has lived in Wodonga for over 20 years now. While Wodonga is her current hometown, her family are not from area. Her mother, being Greek and from Victoria, and her father, a proud Pitjantjatjara man from South Australia. Melissa is an active community member and is the current Project Officer of the Riverina Murray Regional Alliance (RMRA) since May 2019.
Melissa was a finalist in the Albury Wodonga NAIDOC Youth of the year in 2013 and 2018 and was awarded the Uncle Arthur Melrose Encouragement Award in 2013.
Melissa's career started in 2013 as a trainee in government and has grown from there. Her passion lies in helping her community and being part of the wider Aboriginal community in Victoria and NSW.
Soon, she hopes to expand on her knowledge about her culture to pass onto her young son, aged 4, and pave the way for his future.
RMRA is not an incorporated body. It is comprised of representatives of each of the Community Working Parties (CWPs) from member communities. Current RMRA member communities are:
Albury
Cootamundra
Cummeragunja (non-active member)
Deniliquin
Griffith
Hay
Leeton
Narrandera (non-active member)
Wagga Wagga
Tumut